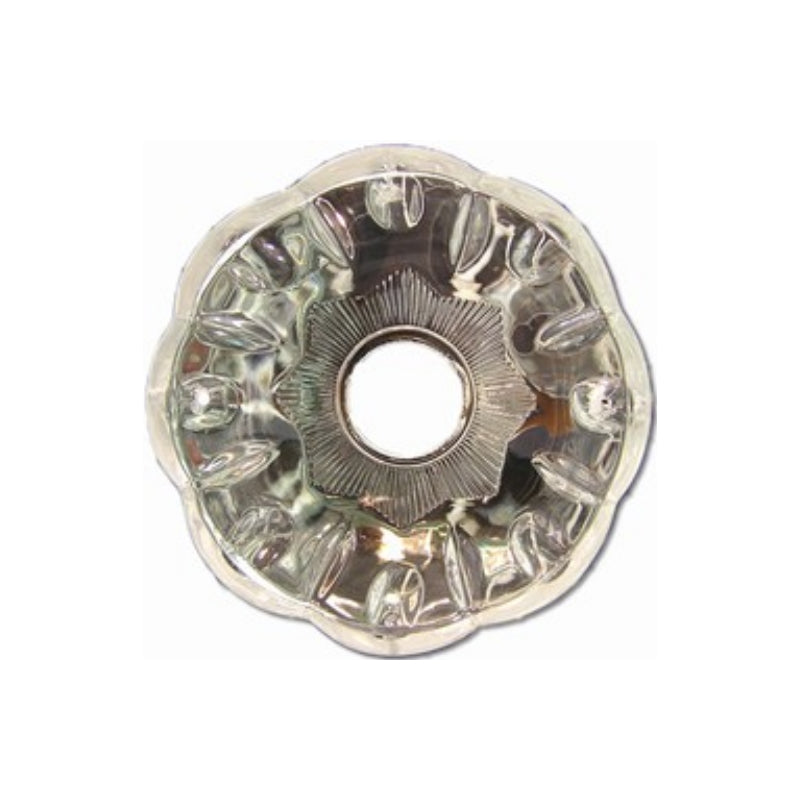 Clear Glass Bobeche Candle Ring
BOBECHE

 

(candle & holder not included)

Each bobeche candle rings includes six pins to attach crystals to.

Our bobeches are non-leaded crystal - the finest quality available.

BOBECHE MEASUREMENT: 100mm

Need your bobeches in a hurry?

Our candle rings usually ship same day.

Monday through Saturday 

holidays excluded

It's hard to show the actual color of translucent products as each monitor may show them differently. We have tried to show them as close to possible.

Product Code

:

 

G-BOB-CH


Don't sacrifice quality for price; our Cristalier® lead-free crystal bobeche is just as stunning as Swarovski® without the expense. The very finest in non-leaded crystal, you will be delighted with the money you save!
Bobeches add luxury, opulence, and brilliance to any style home.
Home shows display designers adding crystals to home décor. Home decorating magazines showcase luxury homes draped with crystals on fireplace screens, candleholders, and wall sconces. Now you can create your own crystal bobache designs without the expensive price tags.
Our candle rings, known as crystal bobeches to crystal manufacturers, come complete with four pins for hanging our prisms. Our fine bobeche are faceted the same way Bohemian glass and Swarovski bobeches are but without the weight or cost. Our rings are strong and will not easily separate from our crystal prisms or pendants. Prisms are a great accent to your new or antique chandelier and are perfect when hung from our glass bobeches.
Bobeche MEASUREMENTS: 100mm (includes SIX attached CHROME pins to hang crystals or string beads for a swagged look)
Not just for chandelier parts anymore, our lightweight crystal bobeches are the perfect ornaments for home decorating as well as arts and crafts.
Need some ideas on how to use our bobeche as a home décor item?
Our decorative candle rings look beautiful on Chandeliers, Scones, Bar Lights, Candles and many more of your home items.
Purchasing & Delivery
Before You Buy
Cristalier Crystals strives to end each workday with all orders shipped. However, we are closed weekends and holidays.
To avoid delivery day disappointments, please plan accordingly.
Delivery
Cristalier offers you LOW Shipping rates with FAST delivery.
Total Order / Delivery Times / Shipping Price
$0.00 – $5.00 - First Class 2-5 Days - $3.95
$5.01 – $75.00 - Expedited 2-3-Days - $7.95
$0.00 – $75.00 - Express 1-2 Days - $22.95
$5.01 – $16.50 - First Class 3-5 Days - $5.95
$75.01 – $250.00 - Expedited 2-3 Days - $12.50
$75.01 – $250.00 - Express 1-2 Days - $39.95
$251.00 – $500.00 - Expedited 2-3 Days - $29.95
$501.00 and up $49.95 - Fed Ex Ground (3-7 Days (No PO Box)
RETURNS POLICY
The following Return Policies are given to the original retail purchaser of Cristalier Crystals:
Wholesale orders are not returnable.
Items that have been used are not returnable.
You have 10 days from the day your order is delivered to make a return on crystals.
If you do not specify damaged crystals on your return form and we receive them damaged, we will not issue a credit. Be sure to pack the crystals carefully to avoid this situation.
Returned Orders are subject to a 20% restocking fee.
Shipping to or from Cristalier is not refundable.
Metal Parts & Clips
These are not refundable.

LIMITED RETURNS
Wedding Trees must be returned within 3 days of delivery. Used trees are non-refundable. Trees are subject to a 50% restocking fee.